New Partnership Between the Libyan Women's Platform for Peace & the Center for World Religions, Diplomacy & Conflict Resolution (CRDC) at George Mason University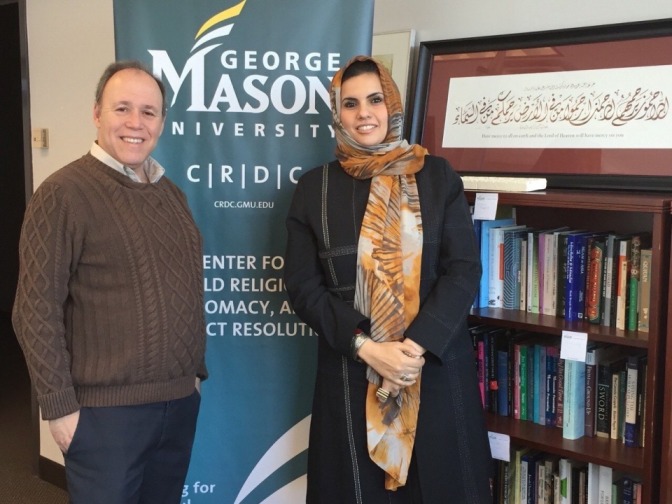 On April 12th 2016, The Co-founder & Director of the Libyan Women's Platform for Peace, Zahra' Langhi has signed a memo of collaboration with Dr. Marc Gopin the Director of the Center for World Religions, Diplomacy & Conflict Resolution (CRDC) at George Mason University.
LWPP & CRDC will work together on implementing LWPP's Vision of Sustainable Peace & Nation Building. CRDC will offer capacity building trainings on mediation & conflict resolution for traditional religious & tribal leaders & women & youth civil society activists. Through the 'relationship' approach rather than the mere 'dialogue' approach, LWPP & CRDC plan to create platforms for healing the traumas of the war & building sustainable trust relationships.

CRDC engages emerging indigenous and global conflict resolvers, partner with them in innovative entrepreneurial growth, mobilize support for them, and create linkages between peacebuilders, citizen diplomats, students, business people and policy makers. CRDC specializes in innovative international practice of conflict resolution and citizen diplomacy, international education seminars and field experience, conflict resolution analysis of current events, and business/organizational consultancies. CRDC engages the social network of positive change makers in the conflict regions and collaborate with them in a way that raises the profile of significant and cutting edge peacebuilding work in high conflict zones. Finally, it acts as a connector of the social network of positive change makers and the policy makers of the Washington region in order to generate more effective international support for and encouragement of cutting edge peacebuilding.
Libyan Women's Platform For Peace LWPP was launched on the 7th of October 2011 by over thirty-five Libyan women from different cities and backgrounds, to ensure that women remain a vital part of post-Gaddafi Libya. The Platform has a particular emphasis on inclusive transitions, women's rights, youth leadership, advancement and security, peace building and conflict resolution. It has since grown to a network of over a hundred organisations and persons.
The LWPP has experience in constituency building and mobilisation, network facilitation and management, as well as successful advocacy and lobby activities in the fields of women's political leadership and participation. The LWPP has also been involved in constitution building & peace building process, efforts regarding the election of women parliamentarians, and creating platforms of dialogue with different Libyan stakeholders on peace & security.
From 2015 throughout 2016 LWPP, launched a program on Sustainable Peace. The program began with monitoring the UN led peace process, which included members of LWPP. After a close monitoring process, LWPP concluded through a policy paper that more than just a seize of fire and power sharing is needed in order to ensure a long-term, sustainable peace. In addition to important issues such as security arrangements, economic recovery and a broad reconciliation process, widespread impunity, the need for transitional justice, a clear proper plan of DDR must also be addressed. In a word, Libya needs to pursue an inclusive positive peace over exclusionary negative peace. LWPP is still engaged in building a Vision of Sustainable Peace in Libya through a qualitative research on nation building and social capital which will be soon published.